Olchfa Newsletter - Easter 2022
Thank you for all of your generous donations to the British Red Cross (DEC) Ukraine Humanitarian Appeal. The total amount raised is £5500. This is an amazing achievement. The pupils discussed the humanitarian issues taking place in Ukraine in their iThink classes #informedpupils
Ty Olwen Easter Egg Drive
The grand total of Easter eggs donated by our school community is 669!!!!
A massive thank you out to all staff, pupils and everyone who has taken part in this huge Easter egg project for Ty Olwen. These Easter eggs will truly make a difference to so many people.
School Information - Reminders
LOST PROPERTY
Lost property can be viewed every Thursday from 3pm - 3.30pm in the Main Hall.
SECOND HAND UNIFORM
The school nurse always needs donations of clean, unwanted uniform. If you have any second hand uniform to donate to the school, please bring the items in to reception. Thank you.
SCHOOL GATEWAY
Now that we are a cashless school it is essential that parents download the School Gateway App as this is the only way to make a payment for trips, gym memberships, charity donations, etc.
In order to register on the App parents need to use the email and mobile number they have provided to the school. Any queries can be emailed to olchfa@olchfa.org.uk
Please note this is not the same as the sQuid App which is used for school lunches.
Congratulations to Megan in Year 9 who has taken part in the first round of the US KIDS South Wales local tour which she played at Swansea Bay golf club last weekend. Megan won her age group and now plays in the next round at Monmouthshire golf club in April. Well done Megan!
Congratulations to the year 10 basketball team who came runners-up in the national basketball finals in March. They put in a superb effort. Well done!
Congratulations to Kevin in Year 7 who played in the LTA 12u National Tour Tennis tournaments and won the 12u doubles national title during February half-term. Well done Kevin!
As a member of the Welsh Judo Squad Cedric attended Welsh squad training camps over the half term holiday. He also competed at a tournament in High Wycombe London where he won a Bronze medal in the u15s u38kg category
Congratulations to Morgan in Yr 11, Ava in Yr 9 and Millie in Yr 8 who were selected to represent Wales in the SIAB cross-country race in Pembrey. Millie and the junior girls secured a silver for Wales and Ava and the relay team received a Bronze. Well done!
A big thank you to the canteen staff who have offered a number of taster days to pupils and staff. In celebration of the Chinese New Year, the kitchen offered a taster menu which was very popular. Dishes offered were chicken chow mein, beef with broccoli, vegetarian bao buns and Chinese five spice chocolate cake, to name a few. In March, a joint St David's Day/Pancake Day was held where pancakes and Welsh Cakes were available to purchase. Future taster days will be advertised via the school social media pages. Thank you to all the kitchen staff for all their hard work!
Author Workshops
We had two very successful author workshops in the library in February organised by Angharad Davies, a member of the English department.
Kathryn Evans did an online workshop with year 7 pupil, describing how she writes her stories using Harry Potter as a working example.
Later that month year 9 pupils attend an online workshop with Savita Kalhan and all successfully wrote a short story during the session.
We are hoping to have more author workshops in the future.
Queen's Jubilee - Tree Planting
On Monday 21st March, Cllr Mary Jones, The Lord Mayor of the City and County of Swansea and Chair of the Governing Body, Mrs Louise Fleet, The Lord Lieutenant of West Glamorgan, and Mrs Joanna Jenkins, the High Sheriff of West Glamorgan, visited to school to plant a tree in honour of the Queen's Platinum Jubilee. The visitors were welcomed and assisted by senior prefects, staff and pupils from the school. More details on the initiative can be found here https://queensgreencanopy.org/
International Day of Mathematics
To celebrate the 2022 International Day of Mathematics, the Year 7s in Miss Powell and Mrs Escudero's class participated in a photo challenge by sending this photo where they formed a parabolic curve. They discovered in class how you can create curves by intersecting straight lines and recreated the design in the yard using tape measures and braving the elements! The organisers received over 3200 photos, selected some of the best pictures and posted them in three galleries and an interactive map. Our pupils' photo can be found in the gallery United by Mathematics.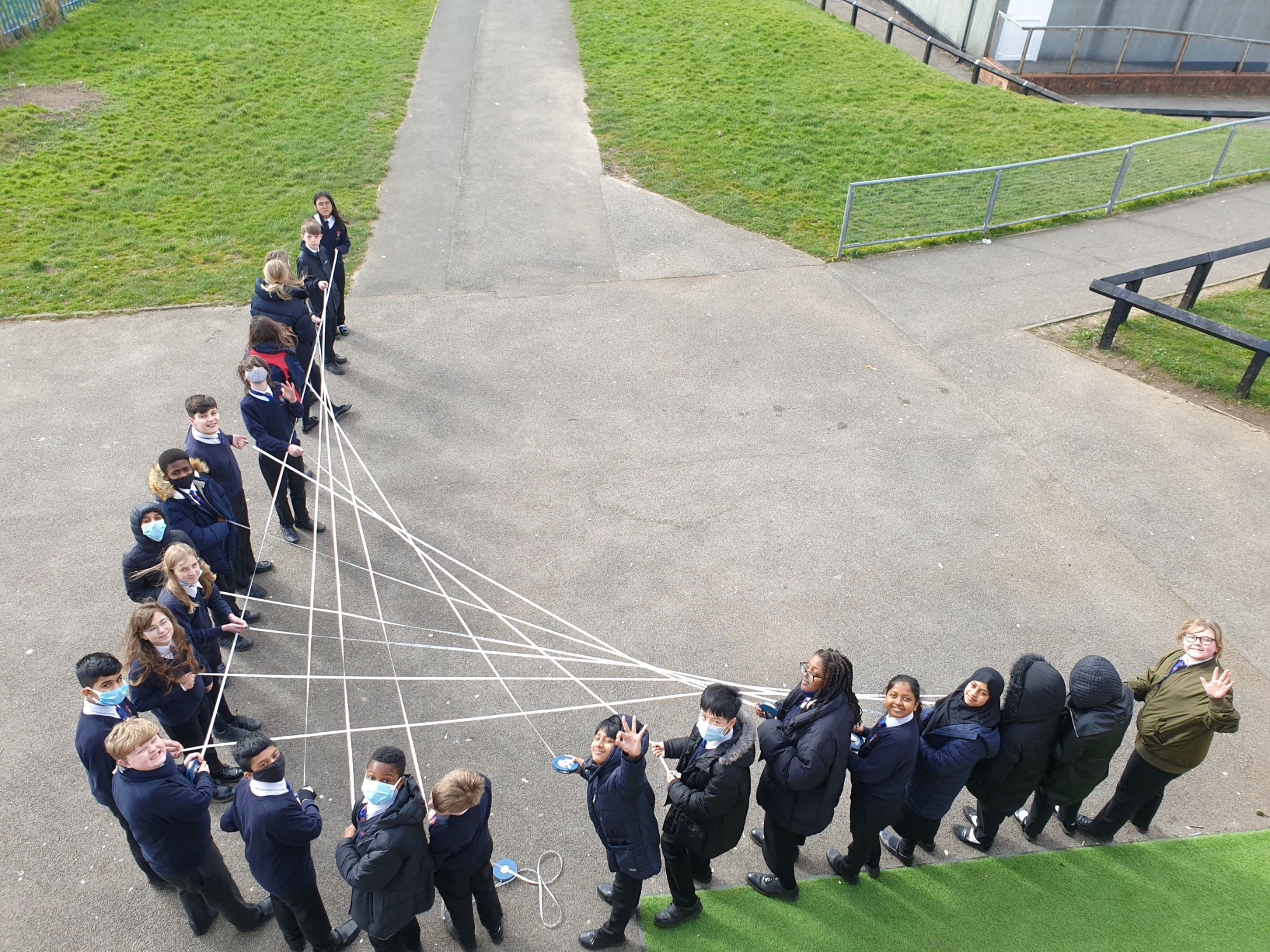 On Wednesday March 23rd and Thursday March 24th, our pupils participated in the World Maths Day competition. Millions of students around the world competed online and our pupils took on the challenge to complete 20 60-seconds live maths games earning one point for each correct answer. Our final results were:
Year 7 : 71st in Britain and 310th in the world.

Year 8 : 27th in Britain and 146th in the world.

Years 9 to 12 : 41st in Britain and 193rd in the world.
A brilliant effort by everyone who entered the competition, well done!!!
Special congratulations go to Rachel, Theo and Amelia in Year 7; Sarah, Owen and Sophie in Year 8; Tristan, Yusef and Ruby in Year 9: Dan, Yuhan and Jack in Year 10; Ena, Isaac and Will in Year 11; and Zabit in Y12, all of whom were the highest scorers in their year group. Well done!!!
World Maths Day - UPDATE!
On Thursday 3rd of February our Year 9, Year 10 and Year 11 pupils took part in UKMT Intermediate Maths Challenge 2022. They thoroughly enjoyed it and have done exceptionally well! They have achieved 5 Gold, 17 Silver and 9 Bronze certificates! The recipients are:
Gold Certificate Recipients
Year 9: Abi and Jerry
Year 10: Daniel
Year 11: Daniel and Danny
Silver Certificate Recipients
Year 9: Sam and Ruby
Year 10: Matthew, Ffion, Owen, Noah, Ioan, Aidan, Darasimi and Jie Ling
Year 11: Angelina, Emma, Iolo, Ena, Ashwin, Rahim and Merlin
Bronze Certificate Recipients
Year 9: Esther, Tommy and Tristan
Year 10: Tom, Felix, Roaa and Aaron
Year 11: Harris and Benjamin
Congratulations to you all!!
The following students have qualified for the Pink and Grey Kangaroo: Abi, Ruby and Sam in Year 9; Daniel in Year 10; and Daniel in Year 11. Jerry in Year 9 qualified for the Cayley Olympiad and Danny in Year 11 qualified for the MacLaurin Olympiad. These are sat by invitation only and are for the top performing mathematicians in the country! Well done!
EXPRESSIVE ARTS DEPARTMENT
Over the last few weeks, the Expressive Arts department have delighted us with their talents, as evidenced by clicking on the links below. Enjoy:
Artists of the Week
Here are some examples of pupils' work from the Expressive Arts Department. More pieces can be viewed on the school website under the tab 'Photo Gallery' - olchfa.org.uk
Congratulations to this year's CHAT peer mentors who have completed their training and are helping to support individual pupils in KS3. CHAT are a key part of our transition programme and are looking forward to meeting pupils in Yr6 to help them with their move to Olchfa!
Parenting Seminar - What Every Parent Needs to Know - Anxiety and Young People
Take and hour online to understand the issue of anxiety and receive useful strategies and tips in order to support your young person.
Thursday 28th April, 7-8pm. Please contact Hannah Vincent if you have any questions at VincentH@hwbcymru.net
Click on the link below to register
Latest News via olchfa.org.uk
| | |
| --- | --- |
| | 31 Mar 2022 |